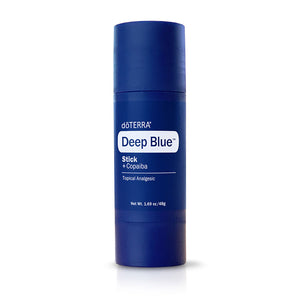 Infused with doTERRA Deep Blue® Soothing Blend containing CPTG Certified Pure Tested Grade™ essential oils, plus the beneficial properties of Copaiba, the Deep Blue Stick is powerful, targeted relief in a fast-acting solid.
Description
Formulated with plant-based menthol, methyl salicylate, and camphor, this easy-to-use stick penetrates deeply and creates a cooling sensation on skin. An indispensable addition to your bathroom cabinet or gym bag, the stick formula provides moisturizing emollients that leave your skin feeling soft and not greasy. Quick drying so it can be applied before, during, or after a workout, the Deep Blue Stick is soothing, convenient, and effective.
Directions For Use
Apply directly to affected areas. For a more intensive treatment, apply Deep Blue essential oil blend on the skin prior to application.
Primary Benefits
Includes Deep Blue Soothing Blend, Copaiba, and other natural ingredients
Provides maximum OTC strength plant-based menthol
Delivers temporary relief of minor aches and pains of muscles and joints associated with simple backache, arthritis, sprains, strains, and bruises
Includes moisturizing emollients that leaves your skin soft and non-greasy
Creates a cooling and soothing sensation