NEW dōTERRA METAPWR SYSTEM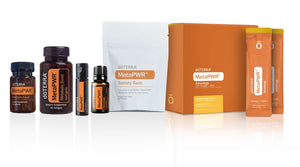 The dōTERRA MetaPWR System is designed to makeover our metabolism and assist in anti-aging at a cellular level
WHY A DŌTERRA MEMBERSHIP?
MAKE THE MOST OUT OF 2022 WITH A YEAR DŌTERRA MEMBERSHIP ON US!
*Spend over $100 to qualify*
+ ACCESS TO WHOLESALE PRICING (Save 25%)
+ LOYAL BUYING PROGRAMME AVAILABLE (Save up to 55%)
+ FREE COACHING AND EDUCATION

<-----Play video to learn more
Best Sellers & Staff Picks
SPECIAL OFFER WITH ANY STARTER KIT
Save money by buying a starter kit and receive for free:
+ FREE dōTERRA Membership
+ Introduction to Aromatherapy Course
Reach out to our Oil Expert on WhatsApp HERE
The Introduction to Aromatherapy course is taught by international best selling author and founder of Emotions Mentor™ Rebecca Hintze.
Shop Now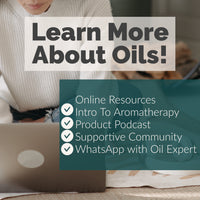 New Products available Now!
Deep Blue™ Stick
Regular price

Sale price

$35.33
doTERRA® abōde™ Laundry Pods
Regular price

Sale price

$28.00
doTERRA On Guard+™ Chewable Tablets
Regular price

Sale price

$22.67
Testimonials
My family and I loved the Healthy Start kit. It is filled with useful oils for our everyday life. I use OnGuard to clean my house, Tea tree to help with blemishes. I mix Lemon with sparkling water for a refreshing drink, or mix with Frankincense in our diffuser to help with anxiety. I can't praise these oils enough.

Victoria A.
Peppermint is my best friend right now. As my body changes and my hormones are adjusting to a new normal, I keep a spray bottle of water with 5 drops of peppermint on my nightstand to cool down my "power surges". Lifesaver!!! 

Teresa L.
I get an upset stomach due to sinus drainage. The other night I had an upset stomach and nausea. I rubbed some peppermint oil on my stomach area and some lavender oil on my temples. Symptoms went away and I was able to sleep through the whole night.

Andrea P.
Lavender in the beginning was so amazing for my allergies, burns and poison oak. I would get poison oak on my arms every year in the spring, used Tea Tree with it for instant itch relief and gone the next day. Normally with prescriptions, it would last week.

Kelly G.
I have trouble sleeping. Since I have found out about dōTERRA serenity, I no longer have this problem. I just put it on my feet before I get in bed and I sleep like a rock! dōTERRA oils are the best by far of any oils I have tried.

Glenda K.
I have benefitted in a huge way by using Life Long Vitality and the oils. I was on anti depressants for 8.5 years, struggling to get off them. Met the oils & LLV June 2019...and have been off prescribed meds ever since. I am so happy, healthy and delighted.

Dianne C.
dōTERRA Business Training Course
FREE dōTERRA BUSINESS TRAINING COURSE WITH PURCHASE OF STARTER KIT
Purchase any dōTERRA Enrollment Kit to receive the dōTERRA Business Training Course for FREE (Value $397)

Influence others to develop healthy habits and adopt a wellness lifestyle. This course will get you started as a wellness advocate with all the knowledge you need to start your full or part time business earning commission from dōTERRA.
Learn More