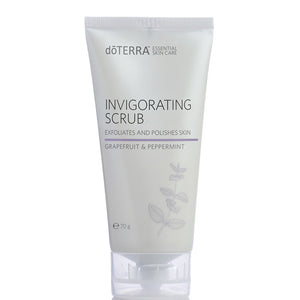 Description
Experience fresh, renewed skin with doTERRA Invigorating Scrub. Grapefruit and Peppermint CPTG® essential oils make exfoliating a refreshing aromatic experience while jojoba esters polish your skin. Botanicals of Mandarin Orange Extract, Jasmine Extract, and Greater Burdock Extract tone, smooth, and hydrate skin.
Directions for Use
Massage moderate amount over wet skin for 15–30 seconds. For additional moisturizing effect, massage one minute. Rinse with warm water. Use two to three times per week as needed.
Cautions
For external use only. Avoid direct contact with eyes. If skin irritation occurs, discontinue use.