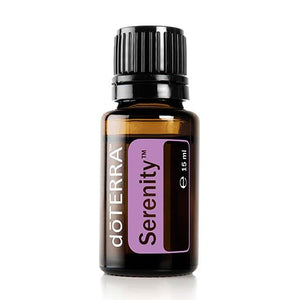 Description
 doTERRA Serenity is a peaceful blend of essential oils that promotes tranquillity and relaxation. The effects of this serene blend can be felt instantly, transporting you to a state of blissful repose. doTERRA Serenity combines essential oils renowned for their ability to lessen feelings of tension and calm emotions. Apply topically before bedtime to help reduce worry and prepare for a restful sleep. Cedarwood, Ho Wood, and Vetiveressential oils gives doTERRA Serenity a grounding aroma that calms the mind and soothes the senses.
Uses
Apply to bottoms of feet at bedtime to help unwind before going to sleep, use in conjunction with doTERRA Serenity Restful Complex Softgels for an enhanced effect.
Add 2–3 drops into a warm bath with Epsom salts to create a relaxing, renewing experience.
Apply 2–3 drops to the back of the neck or on the heart for feelings of calmness and peace.
Diffuse to promote relaxation and decrease worry.
Directions For Use
Aromatic: Use three to four drops in the diffuser of your choice.
Topical: For massage, mix 5 drops with 10 ml carrier oil. For bath, mix 5 drops with 5 ml carrier oil. For perfuming, mix 1 drop to 10 drops carrier oil.
Cautions
Possible skin sensitivity. Keep out of reach of children. If you are pregnant, nursing, or under a doctor's care, consult your physician. Avoid contact with eyes, inner ears, and sensitive areas.