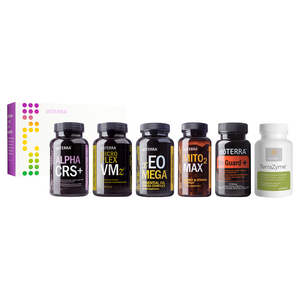 SAVE 40%! (Over $100)
Live Younger, Longer with this collection of 6 popular doTERRA Supplements
doTERRA dietary supplements are an important part of a wellness lifestyle that will help you look, feel, and live younger, longer. They are an excellent compliment to doTERRA CPTG essential oils and other wellness lifestyle products.
What's Inside?

Lifelong Vitality Pack™ ($107.33)
As one of doTERRA's most popular product lines, the products in the doTERRA Lifelong Vitality Pack are packed with powerful, vitality-promoting benefits. The doTERRA Lifelong Vitality Program makes taking the first step on the path toward a lifetime of vitality and wellness convenient and affordable!
Alpha CRS+™

dōTERRA Alpha CRS+ is a proprietary formula that combines potent levels of natural botanical extracts. Alpha CRS+ is formulated to be used daily with xEO Mega or vEO Mega and Microplex VMz to promote wellness.



Microplex VMz

The formula includes a balanced blend of essential vitamins A, C, and E, and a complex of B vitamins. Microplex VMz also contains chelated minerals including calcium, magnesium, and zinc. Microplex VMz is encapsulated using sodium lauryl sulphate-free vegetable capsules.



xEOmega

xEO Mega is a revolutionary formula that blends CPTG essential oils with natural marine and plant-sourced omega-3 oils and carotenoids. It contains EPA and DHA which contribute to the normal function of the heart. xEO Mega provides a complete spectrum of carotenoids and Vitamin E and D, and features Clove, Frankincense, Thyme, Cumin, Wild Orange, Peppermint, Ginger, Caraway and German Chamomile essential oils.
Mito2Max™ ($53.27)
Everybody can relate to feeling sluggish and dragging through the day, just waiting for it to end. A popular dōTERRA supplement, Mito2Max helps support you for whatever your day as in store for you. 
TerraZyme™ ($46.00)
ZenGest TerraZyme is a proprietary combination of enzymes that are most likely deficient in the modern diet. Terrazyme will help you enjoy the benefits of a healthy diet by helping to ensure that your body gets the nutrients it needs.
OnGuard™+ Softgels ($37.33)
dōTERRA On Guard+ Softgels combine the proprietary blend of dōTERRA On Guard Protective Blend with Black Pepper, Oregano, and Melissa essential oils for additional support. Encapsulated in vegetarian softgels, this distinctive blend contains essential oils known for their many benefits.
Also Included

FREE doTERRA Membership ($35.00)
ACCESS TO WHOLESALE PRICING (Save 25%)
+ LOYAL BUYING PROGRAM AVAILABLE (Save up to 55%)
FREE COACHING AND EDUCATION 
FREE SHIPPING